1.CREE CXA2530 600W COB LED Grow Light
Full spectrum for vegetative and flowering stage: 430~440nm, 450~475nm, 620~630nm, 650~670nm, White, IR(730nm
LEDs: 2PCS CREE CXA2530 300W grow LEDs
LED Power : 2X300W=600w
Actual Power consumption: energy saving, just consumes about 105W±5% power, much better than the same product in the marketplace
Dimension: 267x188x70mm
Coverage Area: about 2.0 x 2.0 Square Feet ( The lighting area and the height are changeable according to different plants and environments )
Net Weight: 2.5kg
Lighting angle of LED: 70°-90°
Lumens:6000lm
2.CREE CXA2530 1200W COB LED Grow Light
Full spectrum for vegetative and flowering stage: 430~440nm, 450~475nm, 620~630nm, 650~670nm, White, IR(730nm
LEDs: 4PCS CREE CXA2530 300W grow LEDs
LED Power : 4X300W=1200w
Actual Power consumption: energy saving, just consumes about 205W±5% power, much better than the same product in the marketplace
Dimension: 267x267x70mm
Coverage Area: about 3.5 x 3.5 Square Feet ( The lighting area and the height are changeable according to different plants and environments )
Net Weight: 4.5kg
Lighting angle of LED: 70°-90°
Lumens:12000lm
3.CREE CXA2530 1800W COB LED Grow Light
Full spectrum for vegetative and flowering stage: 430~440nm, 450~475nm, 620~630nm, 650~670nm, White, IR(730nm
LEDs: 6PCS CREE CXA2530 300W grow LEDs
LED Power : 6X300W=1800w
Actual Power consumption: energy saving, just consumes about 305W±5% power, much better than the same product in the marketplace
Dimension: 387x260x70mm
Coverage Area: about 5.5 x 3.5 Square Feet ( The lighting area and the height are changeable according to different plants and environments )
Net Weight: 6.5kg
Lighting angle of LED: 70°-90°
Lumens:18000lm
Description:
Lifespan: >50,000hours
Worldwide Voltage: 85v-265v
Working environment : -20~40degrees,45%~95%RH
Working Frequency: 50~60Hz
Modular Power Cord (Available in US, UK, EU, AU,JP)
Warranty: 3 Year All Inclusive
Features:
Deep penetration : Good lighting penetration , can penetrate to the deep of the plants
Modular Internal Build: Fully upgradable, easy warranties
Thermal Management: Custom copper core heatsinks quickly dissipates heat for cool operating temperatures
Powerful: 2nd Generation ultra penetration CREE CXA2530 LEDs light deep into the canopy
Versatile: The product is suitable for 85-265V, covering all countries' voltages.
Lighter weight: Much lighter than the same products in the marketplace, safer for hanging .
Plants: Suitable for both vegetative phrase and flowering phrase
Package List:
1X CREE CXA2530 LED Grow Light
1X Free LED Grow Light Hanger
1X Free Power Cord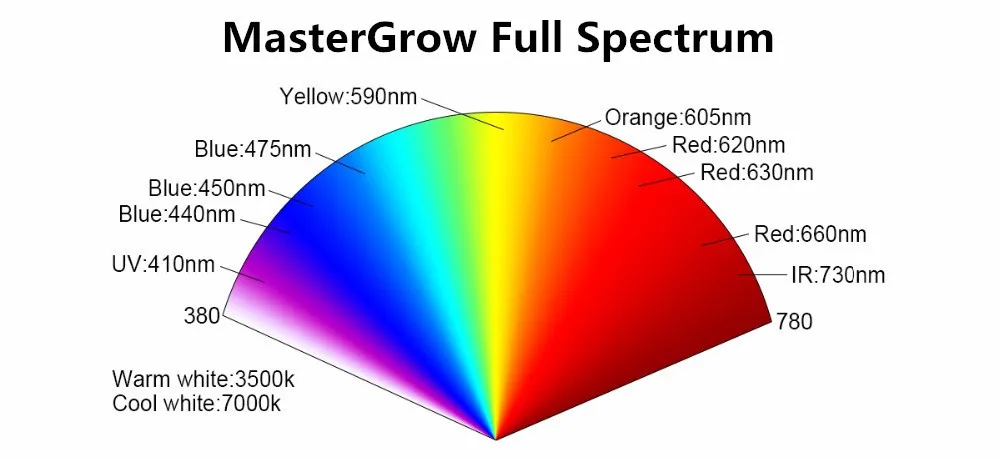 Best color ratio and luminous efficiency
The best color ratio is more suitable for the vegetative stage and blooming stage of any plant
The effect of different wave length on the different growing stage of plant
1.Why is red light important for plants?Why is blue light important for plants?
Red light is very important to plant reproduction. Phytochrome pigments absorb the red and far red
portions of the light spectrum and regulate seed germination, root development, tuber and bulb formation,
dormancy, flowering and fruit productio
Blue light stimulates Chlorophyll production more than any other color, encouraging thick leaves, strong
stems and compact vegetative growth.
2.Can the lights be used under growth and flowering stage?
Yes!We have spent years perfecting our lights,You no longer need two lights to veg and flower your plants,Not only does this make your grow light setup more flexible but our research and other research show that the light is useful for all plants and growth and flowering stage.
Using our lights with full spectrum during a vegetatative cycle will result in healthier plants than those grown under a Metal Hailde.Using our lights during the flower cycle will provide your plants helping you attain maximum yields and improved quality.If you have been looking for light to do it,our led grow light can do that you.
3.What kind of plant you can grow with our LED Grow Lights?
All kinds of flower plants:Special indoor plants,tomatoes,chillis,eggplant.rose etc.
All kinds of greens:herbs and leafy vegetables,lettuces,bok choy,etc.
Also suitable for indoor garden or indoor potted landscape(Most of our customers grow Indoor plants,tomatoes or lettuces etc,they got amazing harvest with our LED Grow Lights)
4.Why do we use Epistar Chipset for our lights?
We use the best LEDs available that allow us to have good quality led grow lights.The manufacturer that makes enough different nanometer(nm)LEDs in all of the wavelenths necessary to provide a full spectrum is Epistar and Optotech.Many researches shows that Epistar and Optotech chipset are good for led grow lights.Right choice if you choose to buy our lights